Giáo án Tiếng Anh Lớp 1 - Tuần 6 đến tuần 35 - Năm học 2021-2022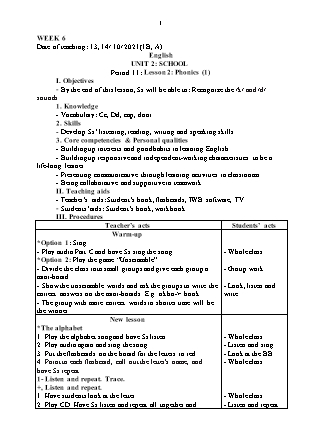 UNIT 2: SCHOOL
Period 11: Lesson 2: Phonics (1)
I. Objectives
- By the end of this lesson, Ss will be able to: Recognize the /k/ and /d/ sounds.
1. Knowledge
- Vocabulary: Cc, Dd, cap, door
2. Skills
- Develop Ss' listening, reading, writing and speaking skills.
 3. Core competencies & Personal qualities
- Building up interests and good habits in learning English.
- Building up responsive and independent-working characteristics to be a life-long learner.
- Presenting communicative through learning activities in classrooms.
- Being collaborative and supportive in teamwork.
II. Teaching aids
 - Teacher's aids: Student's book, flashcards, IWB software, TV
 - Students' aids: Student's book, workbook
Bạn đang xem
20 trang mẫu
của tài liệu
"Giáo án Tiếng Anh Lớp 1 - Tuần 6 đến tuần 35 - Năm học 2021-2022"
, để tải tài liệu gốc về máy bạn click vào nút
DOWNLOAD
ở trên
WEEK 6
Date of teaching: 13, 14/ 10/ 2021 (1B, A)
English
UNIT 2: SCHOOL
Period 11: Lesson 2: Phonics (1)
I. Objectives
- By the end of this lesson, Ss will be able to: Recognize the /k/ and /d/ sounds.
1. Knowledge
- Vocabulary: Cc, Dd, cap, door 
2. Skills
- Develop Ss' listening, reading, writing and speaking skills.
	3. Core competencies & Personal qualities
- Building up interests and good habits in learning English.
- Building up responsive and independent-working characteristics to be a life-long learner.
- Presenting communicative through learning activities in classrooms.
- Being collaborative and supportive in teamwork.
II. Teaching aids
	- Teacher's aids: Student's book, flashcards, IWB software, TV
	- Students' aids: Student's book, workbook
III. Procedures
Teacher's acts
Students' acts
Warm-up
*Option 1: Sing. 
- Play audio Part C and have Ss sing the song.
*Option 2: Play the game "Unscramble". 
- Divide the class into small groups and give each group a mini-board. 
- Show the unscramble words and ask the groups to write the correct answers on the mini-boards. E.g. okbo -> book.
- The group with more correct words in shorter time will be the winner.
- Whole class.
- Group work.
- Look, listen and write.
New lesson
*The alphabet 
1. Play the alphabet song and have Ss listen. 
2. Play audio again and sing the song. 
3. Put the flashcards on the board for the letters in red.
4. Point to each flashcard, call out the letter's name, and have Ss repeat. 
1- Listen and repeat. Trace.
+, Listen and repeat.
1. Have students look at the letter.
2. Play CD. Have Ss listen and repeat all together and individually. Correct student's pronunciation if necessary.
3. Have some Ss demonstrate the act in front of the class.
+, Trace
1. Have Ss call out the letter sound.
2. Demonstrate the steps of tracing the letters with your finger.
3. Have Ss trace the letters with their fingers.
4. Have some Ss demonstrate the act in front of the class.
2- Listen and repeat. 
1. Have Ss look at the picture, letter and word.
2. Play CD. Have Ss listen and point to the letter and word as they hear.
3. Have Ss listen and repeat all together and individually. 
4. Have some Ss demonstrate the act in front of the class.
3- Sing. 
1. Have Ss look at the lyrics and pictures.
2. Read the lyrics as a whole class.
3. Play audio, have Ss listen and point at the letters/words.
4. Have Ss listen and sing along.
5. Have Ss sing and make a gesture (of a cap).
6. Have some Ss sing and make the gesture in front of the class. Give feedback.
- Whole class.
- Listen and sing.
- Look at the BB.
- Whole class.
- Whole class.
- Listen and repeat.
- 8 Ss.
- Whole class.
- Listen.
- Trace.
- 6 Ss.
- Whole class.
- Listen and point.
- Listen and repeat.
- 8 Ss.
- Whole class.
- Read aloud.
- Listen and point.
- Listen and sing.
- Do the task.
- 6 Ss.
Wrap-up 
4- Listen and hop. 
1. Demonstrate the activity.
2. Have students stand up.
3. Have students hop when they hear the 'c' sound.
4. Have some Ss demonstrate the act in front of the class.
- Whole class.
- Do the task.
IV. Adjustment after teaching
 .
Date of teaching: 14, 15/ 10/ 2021 (1B, A)
English
UNIT 2: SCHOOL
Period 12: Lesson 2: Phonics (2)
I. Objectives
- By the end of this lesson, Ss will be able to: Recognize the /k/ and /d/ sounds. 
1. Knowledge
- Vocabulary: Cc, Dd, cap, door. 
2. Skills
- Develop Ss' listening, writing, reading and speaking skills.
	3. Core competencies & Personal qualities
- Building up interests and good habits in learning English.
- Building up responsive and independent-working characteristics to be a life-long learner.
- Presenting communicative through learning activities in classrooms.
- Being collaborative and supportive in teamwork.
II. Teaching aids
	- Teacher's aids: Student's book, flashcards, IWB software, TV
	- Students' aids: Student's book, workbook
	 III. Procedures
Teacher's acts
Students' acts
Warm-up& Review
*Option 1: Review. Singing. 
- Have students sing the song of letter 'c' again. 
- Have them sing and make the gesture of a cap.
- Have some Ss sing and make the gesture in front of the class.
*Option 2: Review. Hop. 
- Call out a letter sound or a word with that letter. 
- Have Ss stand up and hop if they hear the 'c' sound. 
- Whole class.
- Sing.
- 4 Ss.
- Listen.
- 6 Ss.
New lesson
1- Listen and repeat. Trace.
+, Listen and repeat. 
1. Have Ss look at the letter.
2. Play audio. Have Ss listen and repeat all together and individually. Correct student's pronunciation if necessary.
3. Have some Ss demonstrate the activity in front of the class.
+, Trace.
1. Have Ss call out the letter sound.
2. Demonstrate the steps of tracing the letters with your finger.
3. Have Ss trace the letters with their fingers.
4. Have some Ss demonstrate the act in front of the class.
2- Listen and repeat. 
1. Have students look at the picture, letter and word.
2. Play CD. Have Ss listen and point to the letter and word as they hear.
3. Have Ss listen and repeat all together and individually. Correct student's pronunciation if necessary.
4. Have some Ss demonstrate the act in front of the class.
3- Sing. 
1. Have Ss look at the lyrics and pictures.
2. Read the lyrics as a whole class.
3. Play audio, have Ss listen and point at the letters/words.
4. Have Ss listen and sing along.
5. Have Ss sing and make a gesture (of a door).
6. Have some Ss sing and make the gesture in front of the class.
4- Listen and clap. 
1. Demonstrate the activity.
2. Have Ss stand up.
3. Have Ss clap when they hear the 'd' sound.
4. Have some Ss demonstrate the act in front of the class. Give comment.
- Whole class.
- Listen and repeat.
- 4 Ss.
- Whole class.
- Listen.
- Whole class.
- 6 Ss.
- Whole class.
- Listen and point.
- Listen and repeat.
- 8 Ss.
- Whole class.
- Listen.
- Listen and point.
- Whole class.
- Sing.
- 5 Ss.
- Whole class.
- Do the task.
- 5 Ss.
Wrap-up
*Option 1: Review. Throw the Beanbag.
- Lay out the phonics cards face up on the table. 
- Have a student throw the beanbag on one of the phonics cards and name the item pictured. 
- Repeat the procedure with other students.
*Option 2: Workbook-pages 14, 15
- Have Ss open their WBs and guide Ss do all the exercises.
- Teacher and Ss correct all the exercises.
- Whole class.
- Do the task.
- Whole class.
IV. Adjustment after teaching
 .
WEEK 7
 Date of teaching: 20, 21/ 10/ 2021 (1B, A)
English
Unit 2: SCHOOL 
Period 13: REVIEW 1
I. Objectives
- By the end of this lesson, Ss will be able to: Introducing family members.
1. Knowledge
	- Vocabulary: review father, mother, brother, sister
	- Structures: This is my (brother).
2. Skills
- Develop Ss' listening, reading, writing and speaking skills.
	3. Core competencies & Personal qualities
- Building up interests and good habits in learning English.
- Building up responsive and independent-working characteristics to be a life-long learner.
- Presenting communicative through learning activities in classrooms.
- Being collaborative and supportive in teamwork.
	II. Teaching aids
	- Teacher's aids: Student's book, class CDs, flashcards, IWB software, TV
	- Students' aids: Student's book, workbook
III. Procedures
Teacher's acts
Students' acts
Warm-up & Review
*Option 1: Review. Singing. 
- Have Ss sing the songs of letters 'c' and 'd' again. 
- Have them sing and make the gestures of a cap or a door.
- Have some students sing and make the gestures. 
*Option 2: Review. Hop or Clap. 
- Call out a letter sound or a word with that letter. 
- Have Ss stand up and hop if they hear the 'c' sound or clap if they hear the 'd' sound.
- Whole class.
- Do the task.
- 3 Ss.
- Whole class.
- Do the task.
New lesson
A- Listen and circle (A or B). 
1. Pre-listening
- Have Ss look at the pics. Point to each person in the pics and have Ss call out the people they see.
2. While-listening
- Play audio and have Ss look at the pic and people.
- Demonstrate the activity by pointing at the example.
- Have students listen and circle. 
3. Post-listening
- Check the answers as a whole class.
- Point at each person in the picture and have Ss say "This is my mother/...".
- Have some Ss demonstrate the act in front of the class.
Play "Stepping Stones"
1. Divide the class into pairs.
2. Have Student A start at A and say the first sentence.
3. Have Student B start at B and say the first sentence. 
4. Have Ss take turns saying the sentences and go all the way round.
5. Have some pairs demonstrate the act in front of the class. Give feedback.
*Activity: Play the game "Whispering". 
- Choose 2 groups of the same number of students.
- Have Ss make 2 lines. 
- Teacher whispers a word to the 2 Ss at the back of the lines. These Ss then whisper the word to the 2 Ss standing right in front of them. This is repeated until the word reaches the 2 Ss at the front of the lines. 
- The 2 Ss at the front of the lines call out the word and the 2 Ss at the back hold up the flashcard to see whether the word is correct.
- The 2 Ss at the front of the lines move to the back of the lines. T repeats the activity with other words.
- Whole class.
- Listen.
- Do the task.
- Listen and say.
- 6 Ss.
- Pair work.
- Do the task.
- Practice.
- Group work.
- Make 2 lines.
- Do the task.
- Call out.
- Do the task.
Wrap-up
*Option 1: Review. Play 'Family'.
- Have students work in groups of 5.
- Have 1 st from each group introduce other members as their family members. E.g. This is my father/ mother/ brother/ 
- Have students swap roles and repeat.
- Have some groups demonstrate the act in front of class.
*Option 2: Workbook-page 16
- Have Ss open their WBs and guide Ss do all the exercises.
- Teacher and Ss correct all the exercises.
- Group work.
- Do the task.
- Role-play.
- 4 Ss.
- Whole class.
IV. Adjustment after teaching
 .
Date of teaching: 21, 22/ 10/ 2021 (1B, A)
English
Unit 2: SCHOOL
Period 14: REVIEW 2
I. Objectives
- By the end of this lesson, Ss will be able to: Identifying classroom objects.
1. Knowledge
	- Vocabulary: review pencil, bag, book.
	- Structures: It's a (pencil).
2. Skills
- Develop Ss' listening, reading, writing and speaking skills.
	3. Core competencies & Personal qualities
- Building up interests and good habits in learning English.
- Building up responsive and independent-working characteristics to be a life-long learner.
- Presenting communicative through learning activities in classrooms.
- Being collaborative and supportive in teamwork.
	II. Teaching aids
	- Teacher's aids: Student's book, class CDs, flashcards, IWB software, TV
	- Students' aids: Student's book, workbook
	 III. Procedures
Teacher's acts
Students' acts
Warm-up& Review
*Option 1: Review. Play the game "Family Jumble". 
- Mix the flashcards of Unit 1- lessons 1 and 3.
- Put them on a table in front of the class.
- Divide the students into two teams.
- Invite a st from each group to goto the board.
- Say a word and have the Ss race to find the flashcard. 
*Option 2: Review. Sing. 
- Play audio Part C (Unit 2) and have Ss sing the song.
- Whole class.
- Look, listen.
- Team work.
- Do the task.
- Sing.
New lesson
A- Listen and circle (A or B).
1. Pre-listening
- Have Ss look at the pics. Point to each object in the pics and have Ss call out the objects they see.
2. While-listening
- Play audio and have Ss look at the picture and objects.
- Demonstrate the activity by pointing atthe example.
- Have students listen and circle. 
3. Post-listening
- Check the answers as a whole class.
- Point at each object in the pic and have Ss say "It's a bag/...".
- Have some Ss demonstrate the act in front of the class. Give comment.
B- Play "Guess the picture"
- Have students look at the example.
- Divide the class into 2 teams.
- Have a student stand facing away from the board and stick a flashcard on the board behind him/ her.
- Have the st try to guess the answer without looking at the flashcard. 
- Give that team 1 point if it's a correct guess.
- Have teams take turns.
*Activity: Running dictation
- Stick some pictures (bag, book, pencil) on the walls in the class.
- Have Ss work in pairs. One runs and find the pictures around him/ her, then turn back to his pair and tell what he/ she has seen. E. g: It's a pencil. His/ Her friend writes down the word he/ she has heard. E. g: pencil.
- 4 Ss.
- Look, listen.
- Look at the BB.
- Listen and circle.
- Whole class.
- 6 Ss.
- Whole class.
- Team work.
- Do the task.
- Guess.
- Look, listen.
- Pair work.
Wrap-up
*Option 1: Review. Pictionary.
- Have Ss work in pairs. Give each child a piece of paper.
- Have children draw a part of a classroom object on the paper as quickly as possible, then pass their drawings to their partners and ask "A what?' The partner responds 'A pencil'.
- Have Ss continue the game.
*Option 2: Workbook-page 17
- Have Ss open their WBs and guide Ss do all the exercises.
- Teacher and Ss correct all the exercises.
- Pair work.
- Do the task.
IV. Adjustment after teaching
WEEK 8 
Date of teaching: 27, 28/ 10/ 2021 (1B, A)
English
UNIT 3: COLORS
Period 15: Lesson 1: A, B, C
I. Objectives
- By the end of this lesson, Ss will be able to: Name the basic colors.
1. Knowledge
 	- Vocabulary: red, yellow, blue
	- Structures: It's (red).
2. Skills
- Listening, reading, writing and speaking skills.
	3. Core competencies & Personal qualities
- Building up interests and good habits in learning English.
- Building up responsive and independent-working characteristics to be a life-long learner.
- Presenting communicative through learning activities in classrooms.
- Being collaborative and supportive in teamwork.
	II. Teaching aids
	- Teacher's aids: Student's book, class CDs, flashcards, IWB software, TV
	- Students' aids: Student's book, workbook
III. Procedures
Teacher's acts
Students' acts
Warm-up
*Option: Guessing game
Ss work in groups.
Show a half of a picture of a school thing.
Ss work in groups to try to guess what object in the pic is.
The Ss who gives a correct guessing will get one point.
- Group work.
- Look at the BB.
- Group work.
New lesson
A- Listen and point. Repeat. 
- Use flashcards, crayons or colored pencils to introduce the new words: red, yellow, blue
- Have Ss listen to each new word.
- Have Ss listen to each new word and repeat all together and individually. Correct student's pronunciation if it's necessary.
- Arrange the flashcards on the board. Play audio and have Ss listen and point to the pictures in their books.
- Play audio again and have Ss listen, repeat several times.
- Change the order of the flashcards, point to them individually and have Ss say the words, correct pronunciation when needed.
- Have Ss work in pairs, one of them points to the picture in the book and the other says the word.
- Have Ss hold up their crayons/ colored pencil that is red, yellow or blue and say that color.
*Optional activities: Slap
- Divide the class into four teams and have each team make a line.
- Stick flashcards on the board.
- Say a word. E.g. 'red'. The first st from each team runs to the board and slap the correct picture. 
- Give one point for the correct and fastest student.
B- Listen and point. 
- Have Ss look at the pic, identify details (if they can) and colors in the picture. 
- Introduce the situation. 
- Play audio and have Ss look at the picture.
- Demonstrate the act by pointing to the new vocabulary.
- Play audio. Have Ss listen and point. 
- Have Ss work in pairs, one point to the color and one say it out loud.
C- Sing. 
- Have Ss turn to page 68. 
- Read the lyrics as a whole class. 
- Play audio and have Ss listen.
- Play audio again and have Ss listen and sing along.
- Look, listen.
- Whole class.
- Listen and repeat.
- Listen and point.
- Whole class.
- Read aloud.
- Pair work.
- 6 Ss.
- Team work.
- Look at the BB.
- Listen and do the task.
- Listen.
- Whole class.
- Listen.
- Look, listen.
- Listen and point.
- Pair work.
- Look at the book.
- Listen.
- Whole class.
- Sing along.
Wrap-up
*Option 1: Quick flash
- Use the flashcards of the three colors Ss have learnt.
- Show each card very quickly and then hide it again. Ask the class to call out the words of the pic they have seen. Have Ss make a sentence with that word. 
*Option 2: Workbook-page 18
- Have Ss open their WBs and guide Ss do all the exercises.
- Teacher and Ss correct all the exercises.
- Look, listen.
- 6 Ss.
- Do the task.
IV. Adjustment after teaching
Date of teaching: 28, 29/ 10/ 2021 (1B, A)
English
UNIT 3: COLORS
Period 16: Lesson 1: D, E
I. Objectives
- By the end of this lesson, Ss will be able to: Name the basic colors.
1. Knowledge
 	- Vocabulary: red, yellow, blue
	- Structures: It's (red).
2. Skills
- Develop Ss' listening, reading, writing and speaking skills.
	3. Core competencies & Personal qualities
- Building up interests and good habits in learning English.
- Building up responsive and independent-working characteristics to be a life-long learner.
- Presenting communicative through learning activities in classrooms.
- Being collaborative and supportive in teamwork.
	II. Teaching aids
	- Teacher's aids: Student's book, class CDs, flashcards, IWB software, TV
	- Students' aids: Student's book, workbook
III. Procedures
Teacher's acts
Students' acts
Warm-up
*Option: Clap, jump and hop
- Set a rule about three colors of the previous lesson: Red- clap, Yellow - jump, Blue - hop
- Play the audio of track 40. Have Ss listen and act out when they hear the color.
- Give comment.
- Listen.
- Listen and so the task.
New lesson
D- Point and say.
- Have Ss look at the pictures and identify the things. Ask them to tell the colors.
- Divide the class into pairs.
- Have St A point to the pictures and St B say, e.g. "It's red." Swap roles and repeat.
- Afterwards, have some pairs demonstrate the act in front of the class. Give feedback.
*Optional activities.
- Show a flashcard to the class. 
- Have Ss practice the structure using the new word.
- Repeat with other flashcards. e.g. (Teacher shows flashcard "red.") 
- Give comment.
E- Play "Find the color"
- Have Ss work in groups of four.
- Have Ss look at the example. 
- Have Ss take turns coming to the front of the class and give some examples.
- Have the other Ss try to find objects that are the same color and say the sentence.
- Give comment.
- Look, listen.
- Pair work.
- Do the task.
- 8 Ss.
- Look at the BB.
- Whole class.
- Repeat: "It's red."
- Group work.
- Whole class.
- Listen.
- Find.
Wrap-up
*Option: Workbook-page 19
- Have Ss open their WBs and guide Ss do all the exercises.
- Teacher and Ss correct all the exercises.
- Whole class.
IV. Adjustment after teaching
WEEK 9 
Date of teaching: 3, 4/ 11/ 2021 (1B, A)
English
UNIT 3: COLORS
Period 17: Lesson 2: Phonic (1)
I. Objectives
- By the end of this lesson, Ss will be able to: Review /æ/, /b/, /k/ and /d/ sounds.
1. Knowledge
 	- Vocabulary: Review 
2. Skills
- Develop Ss' listening, reading, writing and speaking skills.
	3. Core competencies & Personal qualities
- Building up interests and good habits in learning English.
- Building up responsive and independent-working characteristics to be a life-long learner.
- Presenting communicative through learning activities in classrooms.
- Being collaborative and supportive in teamwork.
	II. Teaching aids
	- Teacher's aids: Student's book, class CDs, flashcards, IWB software, TV
	- Students' aids: Student's book, workbook
III. Procedures
Teacher's acts
Students' acts
Warm-up
*Option: Sing The alphabet song
- Play the alphabet song and have Ss listen. 
- Play audio again and sing the song.
- Put the flashcards on the board for the letters in red (a, b, c, and d). Point to each flashcard, call out the letter's name, and have Ss repeat.
- Listen.
- Sing the song.
- Repeat.
New lesson
1. Listen and repeat.
- Have Ss look at the pictures. 
- Point to the pictures and say the letters' sounds. 
- Play audio. Have Ss listen and repeat the letter sounds. (whole class/ individuals).
2. Listen and point.
- Have Ss look at the pictures.
- Demonstrate pointing to the correct letter when you hear the sound. 
- Play audio. Have Ss point to the correct pic at the top of the page when they hear the appropriate sound.
3. Put a tick (√) or a cross (x).
- Have Ss look at the pictures and call out the beginning sounds. Demonstrate the activity using the example.
- Have Ss put a tick or a cross. 
- Check answers as a whole class.
4. Play "Magic fingers".
- Have Ss look at the example. 
- Divide the class into pairs. 
- Have St A draw a letter on Student B's back. 
- Have St B try to guess which letter it is.
- Have Ss swap roles and repeat. Give comment.
*Optional activities: Find the letter
- Stick each letter cards (a- z) on a small plastic ball. Put all the balls into a basket.
- Arrange the Ss in two lines. 
- Say one of the letters (a to d).
- Have the first Ss in the lines race to the basket to find the ball with correct letter.
- The st who finds the ball first and names it correctly gets a point for his/ her team.
- Whole class.
- Listen.
- Listen and repeat.
- Whole class.
- Listen.
- Listen and point.
- Whole class.
- Do the task.
- Listen. 
- Whole class.
- Pair work.
- Do the task.
- Guess.
- Practise.
- Look at the BB.
- Make two lines.
- Listen.
- Do the task.
Wrap-up
*Option 1: Listen and tap 
- Write the letters and the words in different are as on the board. 
- Divide the class into groups.
- Invite a st from each group to go to the board.
- Call out a letter sound or a word.
- The Ss will run and slap the letter or the word on the board and say it loudly.
- The fastest st will be the winner. Repeat the activity with other Ss.
*Option 2: Workbook-page 20
- Have Ss open their WBs and guide Ss do all the exercises.
- Teacher and Ss correct all the exercises.
- Look at the BB.
- Group work.
- 3 Ss.
- Listen.
- Slap the letter or the word they hear.
- Do the task.
IV. Adjustment after teaching
Date of teaching: 4, 5/ 11/ 2021 (1B, A)
English
UNIT 3: COLORS
Period 18: Lesson 2: Phonic (2)
I. Objectives
- By the end of this lesson, Ss will be able to: Review /æ/, /b, /k/ and /d/ sounds.
1. Knowledge
 	- Vocabulary: Review 
2. Skills
- Develop Ss' listening, reading, writing and speaking skills.
	3. Core competencies & Personal qualities
- Building up interests and good habits in learning English.
- Building up responsive and independent-working characteristics to be a life-long learner.
- Presenting communicative through learning activities in classrooms.
- Being collaborative and supportive in teamwork.
	II. Teaching aids
	- Teacher's aids: Student's book, class CDs, flashcards, IWB software, TV
	- Students' aids: Student's book, workbook
III. Procedures
Teacher's acts
Students' acts
Warm-up
*Option: Sing the alphabet song
- Play audio and have students sing along.
- Have one student stand up for each letter they sing.
- Listen and sing.
- Do the task.
New lesson
1. Listen and repeat.
- Have students look at the pictures. 
- Point to the pictures and say the letters' sounds.
- Play audio. Have Ss listen and repeat the letter sounds.
2. Listen and point.
- Have Ss look at the pictures.
- Demonstrate pointing to the correct letter when you hear the sound. 
- Play audio. Have Ss point to the correct pic at the top of the page when they hear the appropriate sound. 
3. Write the letter.
- Have Ss look at the pictures and call out the beginning sounds. Demonstrate the act using the example.
- Have Ss write the letters. Check answers as a whole class. 
4. Play "Stepping stones"
- Divide the class into pairs.
- Have St A start at A and say the first letter sound or word.
- Have St B start at B and say the first letter sound or word.
- Have Ss take turns saying the letter sounds or words as they go all the way around. Give comment.
*Optional activity: Pass the ball
Give student a ball.
Have students listen to music and pass the ball.
Stop music.
Have the st with a ball say the sound of letters a, b, c and d.
- Give comment.
- Whole class.
- Say aloud.
- Listen and repeat.
- Whole class.
- Look at the BB.
- Listen and point.
- Whole class.
- Write the letters.
- Pair work.
- Do the task.
- Say aloud.
- Work in groups.
- Listen and pass the ball.
- Say the sound of the letters.
Wrap-up
*Option 1: Pair race
- Divide the class into two teams, each team has some flashcards of letters a, b, c, d and pictures of ant, boy, door, cap.
- Say Go. Two Ss of each team take a letter and a picture run to the board. If the letter and pic are matched. They will have one point. Continue the game as the same way.
- Give comment.
*Option 2: Workbook-page 21
- Have Ss open their WBs and guide Ss do all the exercises.
- Teacher and Ss correct all the exercises.
- Team work.
- Do the task.
- Whole class.
IV. Adjustment after teaching
WEEK 10
Date of teaching: 10, 11/ 11/ 2021 (1B, A)
English
UNIT 3: COLORS
Period 19: Lesson 3: A, B, C
I. Objectives
- By the end of this lesson, Ss will be able to: Identify the color of objects and show gratitude.
1. Knowledge
 	- Vocabulary: pink, white, flower
	- Structures: It's a (pink) flower./ Thank you. / You're welcome.
2. Skills
- Listening, reading, writing and speaking skills.
	3. Core competencies & Personal qualities
- Building up interests and good habits in learning English.
- Building up responsive and independent-working characteristics to be a life-long learner.
- Presenting communicative through learning activities in classrooms.
- Being collaborative and supportive in teamwork.
	II. Teaching aids
	- Teacher's aids: Student's book, class CDs, flashcards, IWB software, TV
	- Students' aids: Student's book, workbook
III. Procedures
Teacher's acts
Students' acts
Warm-up
- Sing the alphabet song.
*Option: Seven lives 
- Draw or stick seven bodies outlines on the board.
- Give students a topic.
- Choose a word. Draw one line on the board for each letter in a word, for example: _ _ _ ( red).
- Have Ss put up their hands to say a letter, if the letter is in the word, teacher writes it on the line. If the letter is not in the word, the teacher removes one of the bodies from the board.
- When Ss complete the word or lose all seven lives the game finishes.
- Whole class.
- Look at the BB.
- Listen.
- Look at the BB.
- Do the task.
- Complete the word.
New lesson
A-Listen and point. Repeat.
- Arrange the flashcards on the board, play CD, and point to each flashcard.
- Play CD again and have Ss point to the pictures in their books.
- Play audio again and have Ss listen and repeat.
* Play "Guess" 
- Arrange the flashcards on the board and write a number under each card. 
- Have Ss look at the flashcards for the count of ten. Turn the flashcards over to face the board when the Ss are not looking.
- Call out a number and have Ss take turns to guess the face-down card. Turn the card over after each guess. 
B- 1. Listen and point. 
- Have Ss call out the things they can see.
- Have Ss listen and follow.
- Play audio and demonstrate pointing.
- Play audio. Have Ss listen and point.
2. Listen and repeat.
- Have Ss look at the useful language box.
- Play audio. Have Ss listen to the useful language.
- Have Ss practice the useful language.
C- Play "Guess the picture."
- Have Ss look at the example.
- Divide the class into two teams.
- Have a st stand facing away from the board and stick a flashcard on the board behind them.
- Have the st try to guess the answer without looking at the flashcard.
- Give that team one point if it's a correct guess. Have teams take turns.
*Optional activity: Draw, color and say
- Give each st a blank sheet of paper and ask them to draw flowers. Color these flowers.
- Have Ss work in pairs, practice saying about their pictures. 
E.g. 'It's a pink flower.'
- Swap the roles and continue.
- Look, listen.
- Listen and point.
- Listen and repeat.
- Look at the BB.
- Look and count.
- Guess.
- 4 Ss.
- Listen and follow.
- Listen.
- Listen and point.
- Whole class.
- Listen.
- Practise.
- Whole class.
- Team work.
- Do the task.
- Guess.
- Whole class.
- Pair work.
Wrap-up
*Option 1: Step away lines
- Have Ss stand in two rows facing each other, so that each st has a partner in the opposite line.
- Have each pair hold up their drawing pictures and say a sentence. Eg. 'It's a pink flower).' Each time the pairs complete their sentences, both partners take a giant step back and repeat the sentences. Every time they do so, they will naturally need to speak louder in order to be heard by each other.
*Option 2: Workbook-page 22
- Have Ss open their WBs and guide Ss do all the exercises.
- Teacher and Ss correct all the exercises.
- Make 2 lines.
- Hold up their drawing and do the task.
- Whole class.
IV. Adjustment after teaching
Date of teaching: 11, 12/ 11/ 2021 (1B, A)
English
UNIT 3: COLORS
Period 20: Lesson 3: D, E
I. Objectives
- By the end of this lesson, Ss will be able to: Identify the color of objects and show gratitude.
1. Knowledge
 	- Vocabulary: pink, white, flower
	- Structures: It's a (pink) flower./ Thank you./ You're welcome.
2. Skills
- Develop Ss' listening, reading, writing and speaking skills.
	3. Core competencies & Personal qualities
- Building up interests and good habits in learning English.
- Building up responsive and independent-working characteristics to 
Tài liệu đính kèm:
giao_an_tieng_anh_lop_1_tuan_6_den_tuan_35_nam_hoc_2021_2022.docx