Giáo án Tiếng Anh Lớp 1 - Năm học 2020-2021 - Nguyen Thi Tuyet (Chương trình cả năm)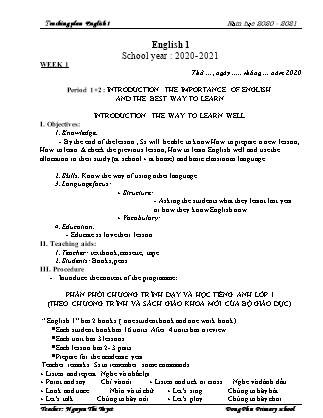 Period 1+2 : INTRODUCTION THE IMPORTANCE OF ENGLISH
AND THE BEST WAY TO LEARN
INTRODUCTION THE WAY TO LEARN WELL
I. Objectives:
1. Knowledge.
 - By the end of the lesson , Ss will be able to know How to prepare a new lesson, How to learn & check the previous lesson, How to learn English well and use the allocation in their study (at school + at home) and basic classroom language.
2. Skills. Know the way of using other language .
3. Language focus:
+ Structure:
- Asking the students what they learnt last year or how they know English now.
+ Vocabulary:
4. Education.
- Educate ss love their lesson
Bạn đang xem
20 trang mẫu
của tài liệu
"Giáo án Tiếng Anh Lớp 1 - Năm học 2020-2021 - Nguyen Thi Tuyet (Chương trình cả năm)"
, để tải tài liệu gốc về máy bạn click vào nút
DOWNLOAD
ở trên
English 1
School year : 2020- 2021
WEEK 1
Thø , ngµy ..... th¸ng n¨m 2020
Period 1+2 : INTRODUCTION THE IMPORTANCE OF ENGLISH
AND THE BEST WAY TO LEARN
INTRODUCTION THE WAY TO LEARN WELL
I. Objectives: 
1. Knowledge.
	- By the end of the lesson , Ss will be able to know How to prepare a new lesson, How to learn & check the previous lesson, How to learn English well and use the allocation in their study (at school + at home) and basic classroom language.
2. Skills. Know the way of using other language .
3. Language focus:
+ Structure: 
- Asking the students what they learnt last year or how they know English now.
+ Vocabulary:	
4. Education.
- Educate ss love their lesson
II. Teaching aids:
1. Teacher: textbook, cassette, tape.
2. Students: Books, pens
III. Procedure
Introduce the content of the programme:
PHÂN PHỐI CHƯƠNG TRÌNH DẠY VÀ HỌC TIẾNG ANH LỚP 1
(THEO CHƯƠNG TRÌNH VÀ SÁCH GIÁO KHOA MỚI CỦA BỘ GIÁO DỤC)
 " English 1" has 2 books. ( one student book and one work book)
Each student book has 16 units. After 4 units has a review.
Each unit has 3 lessons
Each lesson has 2- 3 parts
Prepare for the academic year.
Teacher remarks Ss to remember some commands
+ Listen and repeat. Nghe và nhắc lại.
+ Point and say. 	 Chỉ và nói + Listen and tick or cross Nghe và đánh dấu
+ Look and trace .	 Nhìn và tô chữ + Let's sing. 	 Chúng ta hãy hát
+ Let's talk. 	Chúng ta hãy nói + Let's play. Chúng ta hãy chơi
+ Listen and number. Nghe và đánh số + Listen and chant. Nghe và chan
+ Listen and circle. Nghe và khoanh tròn + Write the letters Viết tiếp các chữ cái
+ Find the words: Tìm từ
+ Project.	 Kế hoạch
+ Listen and repeat. 	Nghe và nhắc lại + Read and tick Đọc và đánh dấu
+ Read and complete Đọc và hoàn thành câu.
+ Read and write Đọc và viết
* Ss read in chorus, in group and individual
 * Teacher corrects the mistakes of pronunciation
 * Play the game: Slap on the board. 
 Teach greeting and use commands
 *Greeting 
Hello (hi)
Goodmorning
Goodafternoon
Good evening
Good bye 
Bye see you later 
 * Classroom commands 
Stand up 
Sit down
Open the book 
Close the book 
Look at the book 
May I come in 
May I go out 
Listen
Talk / speak/say/ tell
Read 
Write 
 Kí duyệt của tổ khối
 Minh Phú, ngày......tháng...... năm.........
 Kí duyệt của BGH
 Minh Phú, ngày..... tháng.... năm......
WEEK 2
Thø , ngµy ..... th¸ng n¨m 2020
Period 3 
 Unit 1: IN THE SCHOOL PLAYGROUND
 Lesson 1 : Part 1, 2
I. Objectives:
1. Knowledge: 
 By the end of the lesson, pupils will be able to:
 - Pronounce the sound of the letter B/b in isolation. 
 - Say the words Bill, bike, book, ball.
2. Skills: 
 - Develop Ss speaking and listening skills
II. Language focus:
 - Sentence Partners: 
 Sound /b/
 -Vocabulary: ball, bike, book
III. Teaching aids:
1. Teacher's: student's and teacher's book, pictures, cassette.
2. Students': books, notebooks, workbooks.
IV. Teaching processes:
Teacher's actions
Time
Students' actions
A.Warm up:
Greet the class by saying Hi. 
Introduce your name I'm + name. 
Encourage pupils to say their names and where they come from (in Vietnamese). 
Introduce (in Vietnamese) Tiếng Anh 1 - Sách học sinh (the number of units, the number of lessons in one unit, and the number of activities in each unit).
Have pupils open the books and look at Unit 1, Lesson 1 (Page 6).
B. New lesson
	1. Listen and repeat
- Open books or access sachmem.vn. Have pupils look at the picture, saying Look at the picture, please! and describe it (in Vietnamese). Draw pupils' attention to the letter B/b, the word next to Bill and other words next to the things and the colour of the letter B/b (as mentioned in Input). 
- Ask pupils to point to the letter B/b. Have them listen and repeat the sound of the letter B/b (saying Listen and repeat, please!) more than once, if necessary. 
- Tell pupils to point to Bill and the word Bill (saying Point to Bill and the word Bill). Ask them to listen and repeat the word, saying Listen and repeat, please! 
Repeat the same procedure with the ball, the bike and the book. Give further support to those pupils who find it difficult to do the task. 
-Play the recording again and have them listen, point to the letter B/b and the ball, bike and book and repeat until they feel confident. Correct pronunciation, if necessary. 
- Play the recording again and call some pupils to say the letter B/b and the words Bill, ball, bike and book in front of the class (saying Well done! when they performed well).
- With a better class, have pupils look again at the picture and find the pictures of the birds, bees (or/and butterfly). Teach the words bee, bird (or/and) butterfly.
 2. Point and say .
- Have pupils look at the picture again (Student's book, p. 6 or Sachmem) or at Poster for Unit 1, saying Look at the picture on Page 6, please! Ask them to describe the picture again (in Vietnamese). Draw their attention to the letter B/b, Bill and the things, if necessary.
Get them to point to the letter B/b and say it, saying Point to the letter B/b and say, please!
- Let them point to Bill and say his name, saying Point to Bill and say, please! Give further support to those pupils who find it difficult to do the task.
- Follow the same procedure with other things. Give further support to those pupils who find it difficult to do the task.
- Ask pupils to work in pairs or in groups to point to the picture and say the sound of the letter B/b and the words. Go around and offer help or correct pronunciation, if necessary.
- Invite two or three pupils to point to the picture and say the sound of the letter and the words in front of the class. If they performed well, praise them, saying Well done!
 * Slap the board 
- Write four words Bill, ball, bike and book or stick the flashcards with these words on the board. Tell pupils to look at the board, saying Look at the board, please! What words can you see? OK, now let's play the game.
- Tell pupils how the game is played, saying This game is played in a group of four people. When I say, for example, Bill, you will run as quickly as possible to the board and touch/slap your hand on the word/flashcard. The one who is the quickest to touch/slap the correct word/flashcard gets one point.
- Ask pupils to listen to four words and touch/slap the flashcards/words as correctly and quickly as possible, saying Are you ready? Now listen to me and let's play the game. 
- Have pupils play the game in groups of four. The pupil who gets the highest score will be the winner.
- Invite four pupils to play the game in front of the class, if there is time.
C.Consolidation
Pupils use Student's books: 
to pronounce the sound of the letter B/b.
to point to Bill and the things in the picture on page 6 and say the words Bill, bike, ball, book.
Pupils use pencils or colour pencils to: 
draw and colour the pictures of the bike, the ball and the book in the notebooks.
then to point to the the bike, the ball and the book and say the words bike, ball, book.
5'
10'
10'
5'
5'
-Whole class
- Listen
- Listen
- Open the books and look at Unit 1, Lesson 1 (Page 6).
Whole class
Individual work
Whole class
Individual work
Whole class
Whole class
Individual work
Individual work
Individual work
- Pair or group work
- Whole class
- Whole class
- Whole class
- Whole class
- Group work
- Whole class
- Pupils play the game in groups of four .
Say again the contents 
Read the sound of the letter B/b.
Do as T asks
- Learn by heart the new words
Period 4 
UNIT 1: IN THE SCHOOL PLAYGROUND 
Lesson 2: Part 3, 4,5
I. Objectives:
1. Knowledge:
 By the end of the lesson, pupils will be able to:
Say the letter B/b and the words bike, ball, book and the phrases a ball, a book, a bike in a chant.
Listen and identify the words bike, ball, book.
Trace the letter B/b. 
 2. Skills: 
 - Develop Ss writing and listening skills
II. Language focus:
1- Vocabulary: ball, bike, book
2- Sentence patterns : - Phrases : A + Noun 
 a book, a bike, a ball
III. Teaching aids:
1. Teacher's: student's and teacher's book, pictures, cassette.
2. Students': books, notebooks, workbooks.
IV. Teaching processes:
Teacher's actions
Time 
Students' actions
 A.Warm up: Greet the class and introduce yourself, saying: Hi. I'm + name.
Option 1: Ask two or three pupils to look at the picture
 in Lesson 1 (Student's book or sachmem) and say the sound of the letter B/b and the words Bill, bike, book and ball.
Option 2: Have a group of four pupils play Slap the board in front of the class with the words bike, book and ball. 
Option 3: Invite two or three pupils to show the pictures (drawn at home as homelink) and say the words/phrases (e.g. bike/A bike, ball/a ball, book/a book).
Get pupils to open their books and look at Lesson 2, p. 7 (saying Open the books and look at lesson 2, please!).Say hello to partner. 
 B. New lesson
	3. Listen and chant
- Have pupils look at the chant on p. 7 in their books or on sachmem. Say Look at the chant, please! Draw pupils' attention to the first line and explain its meaning (as mentioned in Input). Ask them to pay attention to the letter B/b and the word ball. Check comprehension.
- Play the recording of the first verse for pupils to listen and to get familiarized with the tune, saying Listen to the first verse, please!
- Play the recording again, ask pupils to listen and repeat the first line, saying Listen again and repeat, please! Then play the recording for them to listen and repeat until they feel confident, saying Now listen and repeat, please!
- Follow the same procedure with the other verse. Show pupils how to chant and clap their hands. Correct pronunciation, if necessary.
- Play the recording all the way through. Ask pupils to listen and repeat the chant individually and in chorus, saying Listen and chant, please! Give further support to those pupils who find it difficult to do the task.
- Select some pupils to the front of the class to chant and clap their hands. The rest of the class may sing the chant along and clap their hands. If they sang the chant well, praise them, saying Very good!
- With better classes, help pupils change some line in the chant and sing it in front of the class. E.g. 
B, b, a ball. 
B, b, a book. 
B, b, a bike.
A, ball, a book, a bike.
4. Listen and tick
- Have pupils look at the first two pictures (saying Look at the pictures, please!) and say what they can see. Draw pupils' attention to the boxes next to the letters a and b. Check comprehension.
Encourage some pupils to point to the pictures and say the words in front of the class (saying Point to the pictures and say, please!). E.g. 1a: A ball, 1b: A bike. 
- Play the recording of the first phrase for pupils to listen. Before playing the recording, say Now look at the pictures in Question 1. You can see a ball and a bike? Yes, a ball and a bike. Now listen to the recording, please! Play the recording of the first phrase for pupils to hear. Say Did you hear "a ball" or "a bike"? Yes, it said "a bike". Point to the tick √ and say It's a tick. You tick the box b, you give the right answer. 
- Ask pupils to look at the last two pictures and listen. Say Now look at the pictures in Question 2. Listen and tick the correct box. Before playing the recording, say Are you ready? OK, now listen and tick, please! Play the recording (several times, if necessary) for pupils to listen and tick the box.
- Ask pupils to say what they have heard and ticked. Say What did you hear? Did you hear "a ball" or "a book"? If some pupils say "a ball", let them listen to the recording again, saying Now listen again, please! and play the recording. Ask What did you hear? Did you hear "a ball" or "a book"? then say Yes, "a book". So tick the box b.
Key: 2. b.
	5. Look and trace
- Have pupils look at the letter B (upper case) and b (lower case). Use sachmem to show how the upper case B and the lower case b are traced. Ask pupils to make sure if they recognize the two forms of the letter.
- Tell pupils to trace the letter B/b, saying Now use your pencil to trace the letter B/b. You can demonstrate by air tracing or tracing the broken lines of the letter B/b on the board. Then let pupils do the tracing. Give further support to those pupils who find it difficult to do the task.
- Check the results of pupils' tracing and give feedback. Ask pupils to work in pairs and swap their answers, saying Now work in pairs and check the answer. Give pupils time to work. Go around and offer help, if necessary.
- Ask some pupils to show what they have done. Praise them if they have done well, saying Well done! 
With a better class, write the letter B/b in broken lines on the board and invite some pupils to trace them.
C.Consolidation
- Pupils learn by heart the chant p. 7. 
- Pupils trace the letter B/b in their workbooks.
- Pupils point to the pictures in Listen and tick (p. 7) and say the phrases, e.g 1a: A ball, 1b: A bike, 2a: A ball, 2b: A book.
5'
10'
8'
7'
5'
- Greeting 
- two or three pupils to look at the picture and say the sound of the letter B/b and the words Bill, bike, book and ball.
- Group
- Some pupils
- Whole class
- pupils look at the chant on p. 7
- Listen and tick
- Whole class
- Individual work
- Individual work
Whole class 
Individual work
- Whole class
- Whole class 
- Individual work
- Whole class
- Individual work
- Whole class
- Whole class
- Individual work
- Pair work
- Whole class
- Individual work
- Whole class
- Say again the content . 
- Learn by heart the chant p. 7.
* Adding :
 Kí duyệt của tổ khối
 Minh Phú, ngày......tháng...... năm.........
 Kí duyệt của BGH
 Minh Phú, ngày..... tháng.... năm......
WEEK 3 
Thø , ngµy ..... th¸ng n¨m 2020
 Period 5 
UNIT 1: IN THE SCHOOL PLAYGROUND
Lesson 3 Part 6, 7, 8
I. Objectives:	
1. Knowledge:
 By the end of the lesson, pupils will be able to:
Use Hi, I'm + name to greet and introduce someone's name and Bye, + name to say goodbye to someone.
Sing a song about how to greet and introduce someone's name.
2. Skills: 
- Develop Ss writing and listening skills
3. Language focus:
 - Sentence Partners :
 - Hi, I'm + name. 
 - Bye, Bill.
 -Hi, I'm + name and Hi, + name. I'm + name.
-Vocabulary: ball, bike, book
 Phrases: a book, a bike, a ball
II. Teaching aids:
1. Teacher's: student's and teacher's book, pictures, cassette.
2. Students': books, notebooks, workbooks.
III. Teaching processes:
Teacher's actions
Time
Students' actions
 A.Warm up: 
Greet the class and introduce yourself, saying: Hi. I'm + name.
Option 1: Have a group of pupils to sing the chant on page 7 in front of the class. The class claps hands.
Option 2: Ask two pupils to point to the pictures in Listen and tick (p. 7) and say the phrases, e.g 1a: A ball, 1b: A bike, 2a: A ball, 2b: A book.
Option 3: Invite one or two pupils write the letter B/b on the board.
Get pupils to open their books and look at Lesson 3 p. 8 (saying Open the books and look at lesson 3, please!).
 B. New lesson
	6. Listen and repeat
- Have pupils look at the first picture (in Student's book or on sachmem), saying Look at the first picture, please! What is Bill doing? Yes, he's greeting and introducing his name. He says "Hi, I'm Bill".
- Play the recording for pupils to listen and repeat, saying Now listen and repeat, please!
- Have pupils look at the sentence "Hi, I'm Bill." Explain the meaning of the sentence and how it is used (as mentioned in Input). Check comprehension.
- Play the recording several times for pupils to listen and repeat the sentence, saying Now listen and repeat, please! Give more support to those pupils who find it difficult to do the task.
- Invite a few pupils to listen and repeat the sentence "Hi, I'm Bill." in front of the class. Correct pronunciation, if necessary or praise them if they pronounced the sentence correctly, saying Well done!
- Have pupils look at the second picture, saying Look at the second picture, please! What is the boy doing? Yes, he's saying goodbye to Bill. He says "Bye, Bill." Play the recording for pupils to listen and repeat. Then explain the meaning of the sentence and how it is used. Check comprehension.
- Have pupils look at the sentence "Bye, Bill." Listen to the recording and repeat until they feel confident. Check comprehension.
- Invite some pupils to listen and repeat the sentences in front of the class. Go around and praise them if they performed well, saying Well done!
7. Let's talk
- Have pupils look at the first picture (in Student's book or sachmem). Say Look at Picture 1, please! Point to the boy on the left and ask them Who is this? Tell them that he is Bill, saying He is Bill. Then point to the boy on the right and ask them Who is this? Tell them that he is Ba, saying He is Ba.
- Ask pupils to work in pairs or in groups to practise greeting each other in the name of Bill and Ba, saying Now help Bill and Ba greet each other. "Hi, I'm _____."; "Hi, I'm _____." Offer help, if necessary.
- Have pupils look at the second picture. Say Look at Picture 2, please! Point to the boy on the left of the picture and ask pupils to identify who he is, saying Who is this boy? Then tell them that he is Ba, saying He is Ba. - Then point to the boy on the right and ask them And who is this? Tell them that he is Bill, saying He is Bill. Then select two pupils to act out in front of the class.
Ask pupils to work in pairs or in groups to practise saying goodbye to each other in the name of Bill and Ba, saying Now practise saying goodbye to each other, please! "Bye, _____."
- Ask a few pairs of pupils to introduce themselves, saying Now introduce yourself to your friends. E.g. Hi, I'm _____ (Lan/Nam, ). Offer help, if necessary.
Ask a few pairs of pupils to say goodbye to each other, saying Now the pairs practise saying goodbye to each other. E.g. Bye, _____ (Lan/Nam, ). Offer help, if necessary.
- Encourage some pairs of pupils to practise introducing themselves and saying goodbye to each other in front of the class. Praise them, saying Excellent! if they performed well.
- With a better class, have pupils act out the exchange, using their own names. E.g. 
A: Hi. I'm Nam. 
B: Hi. I'm Mai.
 8. Let's sing!
- Have pupils read the lyrics (in their books or sachmem) to familiarize themselves with the first verse of the song. Say Now look at the first verse, please! Explain the meanings of the verse, if necessary (as mentioned in Input). Check comprehension.
- Play the recording several times for pupils to repeat line after line to make sure that they can sing the verse correctly. Say Now listen and repeat, please!
- Do the same with the second verse of the lyrics. Say Now look at the second verse, listen and repeat, please! Play the recording several times for pupils to repeat to make sure that they can sing the verse correctly. Check comprehension.
- Have pupils listen to the whole song, drawing their attention to the pronunciation, the stress and the melody of the song. Say Now listen to the whole song. Then let pupils practise singing the song. Help them sing the song sentence by sentence first. Then help them to sing the whole song. 
- Call one or two groups to sing the song in front of the class. Praise them when they perform well, saying Excellent!
- If time allows or with a better class, have pupils sing the song with their own names and perform in front of the class. E.g. 
Hi, I'm Mai.
Hi, I'm Lan.
Hi, Mai. I'm Lan.
Hi, Lan. I'm Mai.
C.Consolidation
- Pupils greet and introduce themselves, using their own names.
- Pupils sing the song on page 8 by heart.
- Pupils play Slap the board with the words bike, book and ball.
5-7'
8'
7'
10'
5'
- Whole class
- Sing the chant
- say 
write the letter B/b on the board.
- Comment
- Whole class
- Listen 
- Individual work
- Whole class
- Some repeat
- Individual work
- Whole class
- Whole class
- Some repeat
- Whole class
- Pair or group work
- Whole class 
- Pair or groups work
- Pair work
- Whole class
- Whole class
- Individual work
- Individual work
- Whole class 
- Whole class
- Whole class
- One or two groups to sing the song in front of the class
- Do as T asks
- Greet and introduce themselves, using their own names
- Sing the song on page 8 by heart.
- Game 
Period 6 
 UNIT 2: IN THE DINING ROOM
Lesson 1: Part 1- 2
I. Objectives:
1. Knowledge: 
 By the end of the lesson, pupils will be able to:
- Pronounce the sound of the letter C/c. 
 - Say the words :cake, car, cat, cup.
2. Skills: 
- Develop Ss speaking and listening skills.
3. Language focus:
- Sentence Partners: 
 Sound /c/
-Vocabulary: cake, car, cat, cup
II. Teaching aids:
1. Teacher's: student's and teacher's book, pictures, cassette, puppets.
2. Students': books, notebooks, workbooks.
III. Teaching processes:
Teacher's actions
Time
Students' actions
 A.Warm up: 
Greet the class and introduce your name by saying, e.g. Hi, I'm Miss Hien. Encourage pupils to greet and introduce their names, e.g. Hi, I'm Hoa.
Option 1: Have two or three pairs of pupils role-play the exchange Hi, I'm + name.
Option 2: Ask one group to sing the song in Unit 1, p. 8.
Have pupils open the books and look at Unit 2, Lesson 1 p. 9, saying Open the books and look at Unit 2, Lesson 1 (Page 9).
 B. New lesson
 1.Listen and repeat.
 Have pupils look at the picture (p. 9) or Poster for Unit 2, saying Look at the picture/poster, please! Encourage pupils to describe the picture. Draw pupils' attention to the letter C/c, the words next to the things, the pet and the colour of the letter C/c (as mentioned in Input). Check comprehension.
Get pupils to point to the letter C/c, saying Look at the letter C/c, please! Then have them listen to the recording and repeat the sound of the letter C/c, saying Listen and repeat, please!
Have pupils point to the cat and/or the word cat, listen to the recording and repeat the word cat, saying Listen and repeat, please!
- Then play the recording again, if necessary, for them to repeat individually and in chorus. Correct pronunciation, if necessary. If they repeated well, praise them, saying Well done!
Follow the same procedure with the cake, car, cup. Correct pronunciation, if necessary.
Get pupils to listen to the recording again, pointing to the letter C/c, the words and the things/pet and repeating until they feel confident. Give further support to those pupils who find it difficult to do the task, if necessary.
Invite a few pupils to pronounce the sound of the letter C/c and say the words cake, car, cup, cat in front of the class. If they performed well, praise them, saying Well done!
2. Point and say
Ask pupils to look at the picture on page 9 or Poster 2 again, saying Look at the picture/poster,
please! Ask them to describe the picture, paying attention to the letter C/c and the words they have learnt in Activity 1.
Get pupils to point to the letter C/c and say it, saying Point to the letter C/c and say, please! If they pronounced correctly, praise them, saying Excellent!
Ask pupils to point to the cake on the table and say the word cake as a model (saying Point to the cake and say, please!). Remind them of the sound of the letter c in the word cake. Then ask one pupil to point to the cake and to say the word cake in front of the class. Check comprehension.
Follow the same procedure with other things and the cat and correct pronunciation, if necessary. Give further support to those pupils who find it difficult to do the task.
Get pupils to work in pairs or in groups to point to the things/pet in the picture and say the sound of the letter C/c and the words. Say Point and say, please! Go around to offer help or correct pronunciation, if necessary.
Select some pupils to point to the picture/poster and to say the words in front of the class, saying Well done! to praise their performance.
 Fun corner Pelmanism
Tell pupils about two sets of flashcards (as mentioned in Input in Teacher's guide). 
Tell pupils that they are going to match the words with the suitable pictures. Give an example to show how the game is played. Check comprehension.
Put pupils into groups of four and give each group a set of flashcards. Have the groups shuffle the flashcards and distribute them face down on the table.
Ask each player in turn to select two cards and turn them face up. Say Are you ready? Now let us play the game. If the word matches the picture, the player wins and continues to turn over another pair. If the cards do not match, they are turned face down again and the next player plays the game. The game ends when all the cards are gone.
C.Consolidation
- Pupils practise pronouncing the sound of the letter C/c and saying the words car, cake, cup, cat (using student's books or sachmem).
- Pupils play Pelmanism with the words car, cat, cake, cup in sachmem.
- Pupils do the project on page 6 in Workbook.
5'
15'
10'
5'
- Whole class
- Two or three pairs of pupils role-play the exchange Hi, I'm + name.
- sing the song
- Whole class
- Whole class
- Individual work
- Individual work
- Whole class
- Pair or group work
- Whole class
- Whole class
- Individual work
- Individual work
- Individual work
- Pair or group work
- Whole class
- Whole class
- Whole class
- Group work
- Group work
- Whole class
- Say again the sound of the letter C/c and saying the words
- play Pelmanism with the words car, cat, cake, cup
- do the project on page 6 in Workbook.
 * Adding :
 Kí duyệt của tổ khối
 Minh Phú, ngày......tháng...... năm.........
 Kí duyệt của BGH
 Minh Phú, ngày....tháng.... năm.....
WEEK 4
Thø , ngµy ..... th¸ng n¨m 2020
Period 7 
 UNIT 2: IN THE DINING ROOM
Lesson 2: Part 3- 4- 5
I. Objectives:
1. Knowledge: 
 By the end of the lesson, pupils will be able to:
 Say the letter C/c and the words cup, cake, cat, car and the phrases a cup and a cake, a cat and a car in a chant.
Listen and identify the phrases A cat, A cake.
Trace the letter C/c. 
2. Skills: 
- Develop Ss speaking and listening skills.
3. Language focus:
 - Sentence Patterns : Phrases: a cup and a cake, a cat and a car
 - Sound /c/
 -Vocabulary: cup, cake, cat, car
II. Teaching aids:
1. Teacher's: student's and teacher's book, pictures, cassette, puppets.
2. Students': books, notebooks, workbooks.
III. Teaching processes:
Teacher's actions
Time 
Students' actions
 A.Warm up: 
Greet the class and introduce yourself, saying: Hi. I'm + name. Encourage pupils to greet and introduce their names, e.g. Hi, I'm Hoa.
Option 1: Invite a few pupils to point to the picture/poster and pronounce the sound of the letter C/c and say the words car, cake, cup, cat.
Option 2: Ask a group of four to play Pelmanism with the words car, cat, cake, cup in front of the class.
Option 3: Have pupils do the project (Workbook, page 6) in pairs or groups.
Get pupils to open their books and look at Lesson 2, p. 10 (saying Open the books and look at lesson 2, please!). 
B. New lesson
 3.Listen and chant.
Open books or access sachmem. Have pupils look at the chant, saying Look at the chant, please!
Explain the meaning of the first line (as mentioned in Input in Teacher's guide). Draw their attention to the letter C/c in the words cup. Check comprehension.
Let them look at the first line of the chant. Play the recording, ask pupils to listen and repeat the sound of the letter c and the word a cup, saying Listen and repeat, please! Then have them listen again and repeat the sound of the letter c and the word a cup individually and in chorus. Say Listen and repeat, please! If they chanted well, praise them, saying Well done!
Follow the same procedure with other lines. Correct pronunciation, if necessary. Show them how to chant and clap their hands.
Play the recording all the way through again (more than once, if necessary) for pupils to do choral and individual repetition.
Put the class into two groups to practise chanting and clapping. Each group should sing one verse of the chant, saying Chant in groups, please!
If there is enough time, encourage a few groups to the front of the class to chant and clap their hands. The rest of the class may clap along to the rhythm. If they performed well, praise them, saying Very good!
With a better class, encourage pupils to change some lines of the chant and sing it in front of the class. E.g. 
C, c, a cup. 
C, c, a cake. 
C, c, a car. 
C, c, a cat.
4. Listen and tick
Have pupils look at the pictures, saying Look at the pictures, please! and say what they can see, saying What can you see? Can you see a cat? Yes, a cat. Can you see a car? Yes, a car. Draw pupils' attention to the boxes next to the letters a and b. Check comprehension.
Invite some pupils to point to the pictures and say the words in front of the class, saying Point to the pictures and say, please! E.g.: 1a: a cat, 1b: a car.
Play the recording of the first phrase for pupils to listen, saying Now listen, please! Say What did you hear? Did you hear "a cat" or "a car"? Yes, it said "a cat". You tick the box near the cat. If pupils tick the wrong box, have them listen to the recording and tick the box again until they have a correct answer.
Follow the same procedure with the pictures in Question 2. Before playing the recording, say Are you ready? OK, now listen and tick, please! Play the recording (several times if needed) for pupils to listen and do the task.
Call a few pupils to the front of the class to point to the pictures and say what they have heard. E.g. 1. a cat, 2. a cake.
5. Look and trace
Have pupils look at the letter C (upper case) and c (lower case) in sachmem, saying What can you see? Yes, you can see the C (upper case) and the c (lower case). 
Let pupils look at the pencil i
Tài liệu đính kèm:
giao_an_tieng_anh_lop_1_nam_hoc_2020_2021_nguyen_thi_tuyet_c.doc